The list of the best players and converters on the net is growing tremendously. When I say the best, these are the software which have everything you need (well, if not, MOST of the things that you need). With every software companies developing new products and updating their old ones, you might have a hard time choosing what you need. Or if not you, might just settle yourself with the pre-installed Windows Media Player in your computer.
I listed down some of the best players and converters that I had used already. Honestly, I frequently try new players to bring up some change in my laptop. I also download new themes and skins just to have fresh new look for it. Even if I don't download movies on the net, I also included some of the online converters out there.
Players
K-Lite Codec Player

This is a collection of codecs, directshow filters and tools. Codecs and DirectShow filters are needed for encoding and playing audio and video formats. K-Lite Codec Player doesn't need so much memory from your computer. It has the classic Windows Media Player look. It may be not good looking but it can play everything! I can load MP4, 3GP, FFDShow, MPEG, AVI and rmv formats.
This only works on Windows 2000/XP/2003/Vista
Download K-Lite Mega Codec Pack from FileHippo.com


AlShow

AlShow is the very customizable player I had tried. You can move and resize captions to fit your screen and even change the font, rotate the screen and most of all, I can capture video and audio segments. This is good for those who love to edit videos and audios. If the codec is not yet installed on your computer, it can directly download it.
Works only on Windows 98/ME/NT/2000/XP/2003. Needs 20 MB space, 128mb RAM.
Download AlShow

VLC media player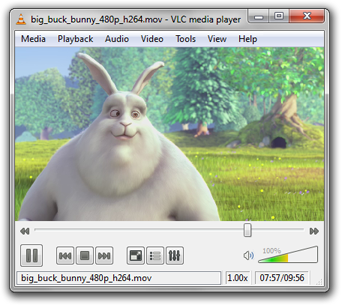 It is both a player and streaming server. It means you can watch video from your DVDs or use this player to watch online videos. VLC is lightweight and also classic looking. It caters Windows, Mac OS and Linux OS.
The link will direct you to their website and from there, choose your OS for download.
Download VLC




Converters


Video Convert Master

I only listed one since it has everything. No need to look for more. My friend gave it to me when we hosted a concert in our dorm.

VCM doesn't mean it only converts video files. The link provided is a folder on which it include the .exe to run the file. Just copy the folder on your local drive C:/Programs/. Then create shortcut on desktop using the "orange counterclockwise arrow" icon (vcm). If you want to uninstall it, just erase the folder and off you go. To convert, just indicate the source file and select the folder where you want to output it. Hit the format you want the file to be converted and wait.

It converts all files to video formats (AVI, MP4, MPEG, MOV, WMV, RM, SWF) and audio files(ASF, VOD, AAC, MP2, MP3, AMR and WMA).

I searched this on the net and it's not free so, I uploaded the one I have.
Download Video Convert Master




Online Converters


If you don't want to stream online and prefer to watch it at your leisure hours, you can first download the file. You only need the URL of it's location.

Vixy.net
The site lets you convert Flash videos/FLV files (youtube, myspace, etc.) to MPEG4 (AVI/MOV/MP4/MP3/3GP) files. You doesn't need to have an account to use this. Just enter the url of your videos and indicate what format you want it to output and download it after conversion.

Convertdirect.com

The service converts FLV files to AV/WMV/MP4/MOV/.MPG/3GP/MP3/AAC. The files are suitable for iPod, Zune, PSP, mobile phones and others. When you only want to download the original FLV file, e-mail ad input is not necessary. But when you need to convert the file, you have to provide them your e-ad because the download code will be sent there. This is kind of tedious.

Now, choose what you need!

Like this post? Subscribe or Bookmark my posts!